Julie Bond is listed in the following art market reference sites: artprice.com (leading reference source for art market information), fineartamerica.com (International e-commerce art), and artzari.fr, as well as numerous other art publications and sites. Her work has been purchased by galleries and art collectors throughout North America and Europe, as well as Australia, Israel, Japan, South Korea and China.
International delivery included using insured art courier.
A signed certificate of authenticity is sent with each piece.
Prince Of The Night
Size : 150 x 100 cm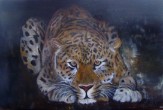 Tigers Eye
Size : 150 x 100 cm

Click here to start typing your text